Audio Consulting and Contracting
Terry has been working in live sound and audio systems for over 30 years. For the past 20 years he has served as the chief audio engineer for WVBR's Bound for Glory radio show. He has mixed sound for hundreds of live performances, ranging from single performers to large bands.
We offer consulting services for live sound work, specializing in acoustic music.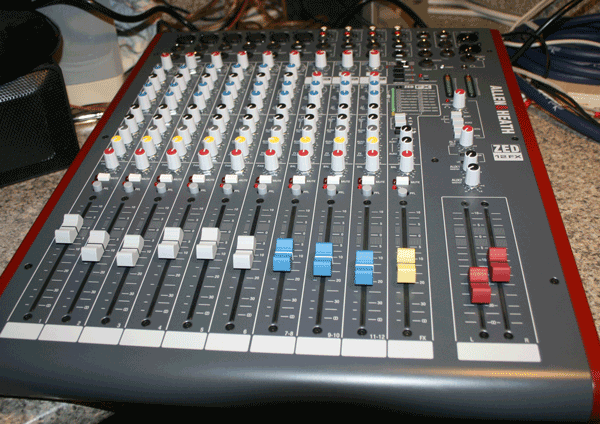 Allen & Heath ZED 12FX mixer. I now use a digital mixer with more features and capabilities for live work, but the ZED looks much cooler! The ZED is my deskside companion at my audio workstation.
Live Sound
Whether you are using a PA system for speech, live music or background sound, a properly installed and operated sound system can greatly enhance your event. We use a
Newforce Solutions can also be hired to run sound for your event, providing active monitoring and adjustment to insure you get the best from your audio system and from your performers.
Event Audio Recording
A recording of your event may be useful to share with those who could not attend live, or as an archive of the event. But how often has a video recording of an event been rendered useless because you could not hear the speakers? Our focus is on the sound, and we will provide a high quality audio recording of your event, which can be brought together with a video tape to provide a useful total recording.
We can work with your videographer to provide a sound feed for the video recorder, or to provide a separate audio track for adding to the video in post-processing.
For complex performances, we have the ability to record up to 10 independent audio tracks and mix down to stereo.
Contact
Please call us at 607-351-6456 or send email to discuss your project.